Community Memberships
Your Community Association provides events and amenities such as winter sleigh rides, summer barbecues, indoor sports programs, mobile security, spring clean-up drives, rink maintenance, and much more. Just
$10 entitles your whole family to participate in events and activities throughout the year. Contact Kim Young, or stop by 220 Dorothy Street and pick one up today!
Volunteers Needed!
The Dieppe Place Community Association offers a variety of programs and services to community residents, all made possible by a handful of volunteers. If you have a few hours a month to spare and are interested in using your skills to help the community, please consider joining the team. For more information, contact Darren Piper.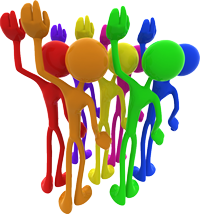 DPCA Neighbourhood Profile
Neighbourhood Profiles are documents developed by the City of Regina Planning Department. They provide demographic, social and economic information, and highlight the key features of each residential neighbourhood in Regina.
Dieppe Place Neighbourhood Profile
Other Regina Neighbourhood Profies

Garage Sale Weekend — May 26-29, 2016
If you're thinking of having a garage sale this year, aim for the weekend of May 26-29! We're promoting it on our Facebook page, as well as on Used Regina, Kijiji and Varage Sale. Go to our Facebook event page to post your address and the times you'll be open!
Annual General Meeting —June 15, 2016
The Dieppe Place Community Association will hold its Annual General Meeting at the Jack Hamilton Arena (1010 McCarthy Blvd) on June 15th at 7pm. All community association members are welcome to attend.
Westerra Development
Regina is expanding, and one of the new communities will be our neighbour. The Westerra development will be located directly south-west of Dieppe Place, bordered by Dewdney Avenue, Courtney Street and Pinkie Road. Read about this new neighbourhood here.