Community Memberships
Your Community Association provides events and amenities such as winter sleigh rides, summer barbecues, indoor sports programs, mobile security, spring clean-up drives, rink maintenance, and much more. Just
$10 entitles your whole family to participate in events and activities throughout the year. Contact Kim Young, or stop by 220 Dorothy Street and pick one up today!
Volunteers Needed!
The Dieppe Place Community Association offers a variety of programs and services to community residents, all made possible by a handful of volunteers. If you have a few hours a month to spare and are interested in using your skills to help the community, please consider joining the team. For more information, contact Darren Piper.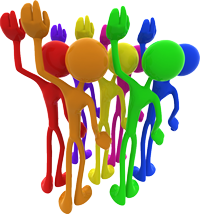 DPCA Neighbourhood Profile
Neighbourhood Profiles are documents developed by the City of Regina Planning Department. They provide demographic, social and economic information, and highlight the key features of each residential neighbourhood in Regina.
Dieppe Place Neighbourhood Profile
Other Regina Neighbourhood Profies

Winter Sleigh Ride December 4!
Our 2016 annual winter sleigh rides will be held on Sunday, December 4, from 1 to 4 PM, departing from the Dieppe School Shack. Get into the Christmas spirit with this seasonal ride, and warm up with hot chocolate and cookies. It's absolutely free — all you need is your 2016-2017 Dieppe Place Community Association membership. If you don't have a membership, drop by 220 Dorothy Street and pick one up from Kim Young, or buy it at the Shack on the 4th — just $10 per family. This event is always a big hit, so bring the whole family out for some winter fun!
Family Fun Day 2016
Thanks to everyone who came out to our community BBQ in September! We had fun for the whole family, with inflated bouncers, face painting, wagon rides and, of course, hot dogs!
Here are a few pictures of the event: