Advertise With Us!
Newsletter Advertising:
1/8 page $30
1/4 page $40
1/2 page $75
full page $125
Contact to place your advertisement.
Rent the Community Sign
Our community sign is in a high-traffic location on the corner of Dewdney Avenue and McCarthy Boulevard.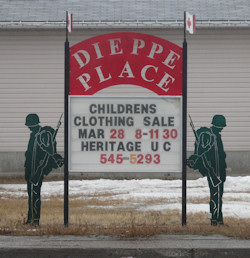 Rates:
Personal: 2 days $10, 5 days $20.
Civic and non-profit groups: 2 days $20, 5 days $40.
Commercial: 2 days $30, 5 days $60.
Contact Kim Young to place your announcement.

Events & Activities
No Excuse Mom
For working and stay-at-home mothers who want to meet other mothers and caregivers while getting in shape. Join the Dieppe Place group for FREE with your DPCA membership. Bring your children! No excuses! Contact nemregina1@gmail.com for details. (You don't need to be a mom to join, but the group is for women only.)
Services
Welcome Wagon
Are you new to Dieppe Place, or do you know of someone who has recently moved to our community?
Call your Welcome Wagon Representative Caryl @ 306-545-3346 for community information and FREE sponsor gifts!
Welcome to Regina
If you are new to Regina, this website can provide you with a wealth of information to help you feel at home in our city.
Lost & Found
Other