Community Garage Sale Weekend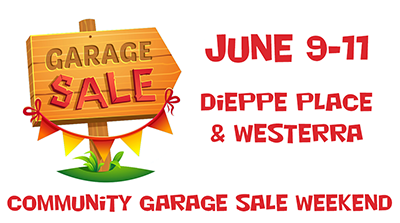 Garage sales are set to take place throughout Dieppe and Westerra over the weekend of June 9 - 11. See the the links below for maps of participating locations; to be included in the map, message us through Facebook, email or text Kim at 306-537-4914.
Dieppe map (updated June 8, 2022)
Westerra map (updated June 8, 2022)
Community Association Expansion
We are delighted to announce that our Community Association has expanded to include the neighbouring community of Westerra, and is now known as the Dieppe-Westerra Community Association. We hope to welcome many new members from Westerra, and to include them in our events and activities!
Volunteers Needed!
The Dieppe-Westerra Community Association offers a variety of programs and services to community residents, all made possible by a handful of volunteers. If you have a few hours a month to spare and are interested in using your skills to help the community, please consider joining our team! For more information, contact Darren Piper or Joren Burton.
Neighbourhood Profiles
Neighbourhood Profiles are documents developed by the City of Regina Planning Department. They provide demographic, social and economic information, and highlight the key features of each residential neighbourhood in Regina. A Neighbourhood Profile for Westerra has not yet been developed.
Dieppe Place Neighbourhood Profile